Integrated Annual Report 2012

Commitment to Stakeholder Engagement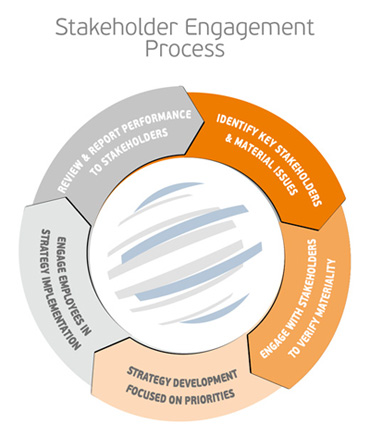 Efforts to expand collaborative action in 2012
Rio+20 Summit (WBCSD / Global Compact Forum)
1st U.N. Global Compact SEE Regional Networking Conference in Thessaloniki
U.N. Human Rights 2012 Summit in Geneva
Global Stakeholders' consultation on WBCSD/CSI Guidelines for Quarry Rehabilitation
WBCSD/CSI Working Group on Supply Chain
CSR Europe's Collaborative Venture for «Valuing non -financial performance»
1st voluntary public-private cooperation agreement between Cement Industry in Greece and Ministry of Environment, Energy and Climate Change
Safety at Work Collaborative Program with BEST (Student Association)
Safety at Home Training and Awareness Building Program in Greece
In the last three decades TITAN has grown into a Group of companies operating in a multi-regional environment and currently has activities established in nine very distinctive and diverse countries.
TITAN's business model relies on local management to best serve the needs of all key stakeholders and at the same time provides a coherent and robust management framework that empowers freedom to manage and make decisions along with TITAN values and principles. A precondition to meeting our objectives is stakeholder engagement.
First of all we believe in telling the truth, listening and endeavoring to understand the points-of-view of others. We believe there is always room for improvement, provided we can open up frankly and honestly. Thus, our long-standing commitment to TITAN'S stakeholders' engagement since the turn of the last century continues to evolve and grow.
Our approach to stakeholder identification is based on international standards and best practices and aims both at internal and external stakeholders. The main principles for stakeholder identification are guided by the U.N. Global Compact regarding the "the sphere of influence" guideline and the AA1000 Stakeholder Engagement Standard. Accordingly, the three main themes guiding the process of identifying stakeholders are: inclusivity, materiality and responsiveness. These standards and principles help us to furthermore define the proximity of stakeholders in an internally consistent manner and to share best practice among our industry and business peers.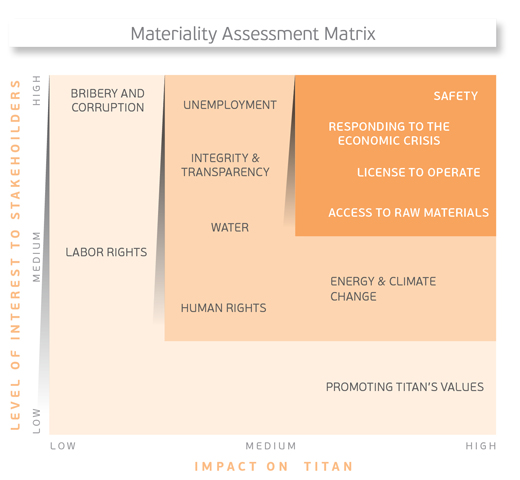 For TITAN Group key stakeholders are employees, shareholders, customers, suppliers, local communities and authorities. However, key stakeholder groups might differ from one local level to the other, depending on the particular social, environmental and political conditions of each area. Although not a multi-national corporation with a global impact, TITAN acknowledges the interests of stakeholder groups at other levels such as the U.N., NGOs, media, etc.
To secure open and constructive dialogues with stakeholders, different means of communication are used by TITAN, including communication days, conferences, face-to-face meetings and multi-stakeholder forums, which are always grounded by the full disclosure of performance reports. The outcome of these processes guides the evolution of TITAN's corporate social responsibility and sustainability strategy, policies, targets and practices at all levels.
TITAN Group held its first principles-based stakeholder forum in Greece in 2008 – an innovation in the national market – and followed it up in subsequent years with local stakeholder events in Usje, Kosjeric and other plants, according to their levels of market and social maturity.
The institutionalization of principles-based stakeholder engagement along the lines of the internationally recognized AA1000 Stakeholder Engagement Standard at the local level was achieved following the relevant intensive training of our people at both Group and national levels. This is part of our strategy to "Go Deep"and embed CSR throughout our operations as well as to "Go Local", where our corporate, Group-level identity is interpreted at the national level according to local needs, maturity and requirements.
Our efforts have been described elsewhere in our previous Reports (most recently here). In 2012 we continued to expand our efforts, deepen them and localize our central values even further, as demonstrated by the systematic proliferation of national-level CSR and sustainability reports in more of our countries of operation. Special focus has been placed in recent years in investing in the markets of Southeastern Europe and the Eastern Mediterranean (due to their relative levels of maturity with respect to social and economic development) while discussions have been initiated about further formalizing stakeholder dialogues around our U.S.-based operations. Given the prominence of the U.S. market in our overall portfolio, we appreciate that the time for further systematic efforts at principles-based stakeholder engagement in this key market is ripe.