Integrated Annual Report 2012

110 years of industrial history (1902-2012)
Diversified geographical footprint across four regions U.S.A., Greece and Western Europe, Southeastern Europe, Eastern Mediterranean
Strong presence in emerging markets, 53% of Group cement capacity
Expansion of cement capacity by 20% and successful reduction of debt by nearly 50% in the 4-year period 2008-2012
Commitment to Sustainable Development and leadership in CSR
Our industry
The cement industry is characterized by its cyclical nature. Long periods of growth are interspersed with shorter periods of decline. Different geographic markets experience distinctive cycles, meaning that it is comparatively rare for the periods of decline to coincide. In addition, the cement industry is capital intensive, requiring high levels of industrial investments, with significant environmental impacts.
Key growth drivers for cement consumption are population growth (increasing demand for housing, commercial buildings and infrastructure) and economic growth (or the lack thereof) in the local economy, which drive up the consumption of cement per capita. In 2012, the cement sector in the countries of our operations consisted of depressed demand, oversupply and overregulation in mature markets, slowdown in the emerging markets of Southeastern Europe and growth in the Eastern Mediterranean.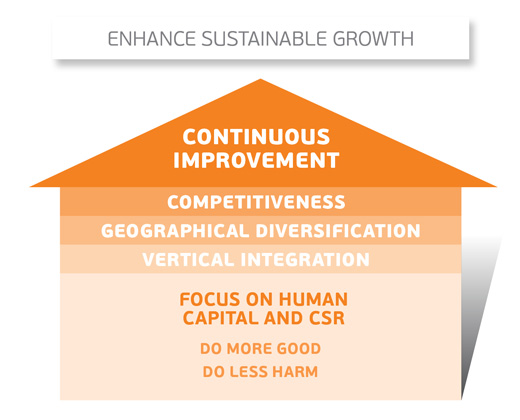 Geographical Diversification
We extend our business and strengthen our asset portfolio through acquisitions and greenfield development into attractive new markets.
Continuous Competitiveness Improvement
We continuously strive to improve our cost structure and enhance our competitive position by investing in our asset base and by implementing new methods and processes throughout our business.
Vertical Integration
We extend our footprint into all products of the heavy building materials value chain, gaining greater diversification, accessing new business opportunities and addressing the needs of the end customer.
Focus on Human Capital
and CSR
We develop and continuously improve our good relationships with all internal and external stakeholders based on mutual respect and understanding.