Integrated Annual Report 2012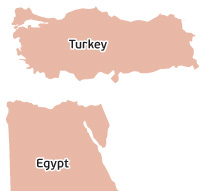 click on map to see each country

Regional Business Performance
In 2012 the Eastern Mediterranean region was for another year the strongest contributor to the Group's profitability. In Egypt, despite the backdrop of challenging conditions, construction activity remained robust. In Turkey, economic growth supported demand for building materials, which remained at high levels.
Total turnover for the Eastern Mediterranean region in 2012 increased by 7% versus 2011 reaching €296 million while EBITDA declined by 26% to €94 million. This decline, is due for the most part to the additional amount of €25 million included in 2011 EBITDA from the refund of the clay tax fee in Egypt.

Health and Safety
2012 was a year of solid performance regarding health and safety in the Eastern Mediterranean region. All plants achieved a very good record, continuing their previous year's success. Most KPIs improved and Beni Suef, in Egypt, had an LTI-free period for the third successive year, while Tokat, in Turkey, reduced LTIs to one. The effort to increase the number of reported and investigated near misses continued, as it is considered the best way to reduce unsafe acts and conditions.
Our Egyptian plants face a continuous challenge to operate safely. In an environment where political unrest is the norm of the day and law enforcement is problematic, both plants managed to address the challenges and create a safe environment for employees, contractors and suppliers. Tokat faced an extremely harsh winter and succeeded to operate the kiln without any unplanned stoppages.
On the improvement front, the "Safety Pillars" project was initiated in the middle of 2011. Each Business Unit received an assignment to develop new or review existing rules on safety issues and eventually produce guidelines that will be shared within the region. All items were completed and are now under final review. The aim is to be distributed for implementation in the 3rd quarter of the year. The subjects for the Eastern Mediterranean region were about 60.