Integrated Annual Report 2012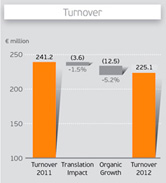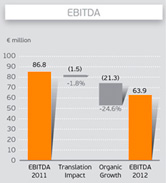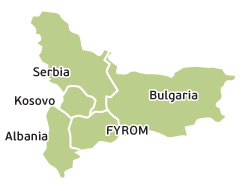 click on map to see each country
Regional Business performance
In Southeastern Europe, demand for building materials posted a gradual decline through 2012, as local economies were impacted by the recession in Europe. Construction slowed down both in the private and in the public sector.
As a result, Group turnover declined by 7% to €255 million and EBITDA fell by 26%, reaching €64 million.
Milestones for 2012 include the expansion of TITAN's strategic cooperation with the International Finance Corporation (IFC) in the Balkans, with the latter acquiring an 11.5% stake in the Group's subsidiaries operating in the F.Y.R.of Macedonia, Kosovo and Serbia for €50 million and TITAN's execution of the option to acquire outstanding minorities in Kosovo.
Safety first
2012 was a good year regarding health and safety in the Southeastern Europe region: Although four out of the five plants in the region reported some LTIs, those were minor injuries; the extensive training and implementation of the safety systems paid off. In Bulgaria, the whole business unit (cement, concrete and aggregates) reported one LTI after three years without injuries. In total, eight LTIs were reported, in the region, same as in 2011. The effort to increase the number of reported and investigated near misses continues, as it is considered one of the best practices to improving employees' awareness.
Among other achievements, our plant in Zlatna Panega, Bulgaria again received two awards by the government and local authorities for its performance on health and safety, while the newly developed system for health and safety in the Antea plant in Albania, is being installed in SharrCem in Kosovo, taking advantage of their common language and making the cross plant sharing of resources a success story.
On the improvement front, the "Safety Pillars" project which was initiated in the middle of 2011 is now at the implementation stage: The Group guidelines have been completed and each business unit is developing or modifying their own procedures. The subjects were Risk Assessment, Permit to Work, and Driving and Contractor Safety. Additionally, health and safety training and Management of Change were developed by the Mediterranean region which also participated in the project.
Finally, our SharrCem plant in Kosovo, acquired in 2011, was incident-free in 2012 while undergoing major maintenance works, installing, as already mentioned, the integrated health and safety system originally developed for Antea. The plant plans to apply for and receive certification according to OHSAS 18001 by the end of 2013 or early 2014.