Integrated Annual Report 2012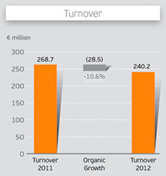 In 2012, it is estimated that demand for building materials declined by 35% in Greece compared to the previous year. After an uninterrupted five-year downward trajectory, the building sector has essentially collapsed, with cement consumption reaching levels of less than 25% of the 2006 peak.
Turnover in Greece and Western Europe in 2012, including exports and distribution centers in Western Europe, was €240 million, posting an 11% decline year-on-year. EBITDA reached €32 million, posting a 9% decline compared to 2011. The program of restructuring and cost reduction initiated by the Group in 2011, contributed substantially to containing the decline in operating profitability.
Cement
Private construction activity in the current economic and credit environment was restricted primarily to repairs of existing properties and hardly any materials went towards the construction of new buildings.
Concrete
Sales of concrete by Group subsidiary INTERBETON decreased significantly compared to 2011. Due to the interruption of public works, the company could not continue supplying infrastructure projects with concrete. It is thus estimated that sales volumes fell in line with the overall market.
Aggregates
The significant drop in the sales of aggregates compared to 2011 is due to the continued decline in building activity and the significant cuts in public investment projects.
Mortars
Sales of dry mortars posted a significant decline, in line with domestic market trends.